Picture this: You were scrolling through the internet looking for the perfect dress, something you've envisioned and wanted for a long time. You come across one that checks every box – only for it to ship exclusively in one country.
What do you do? You could hold off and settle for another dress, pay a huge chunk of money for custom fees or, you could have it shipped via cross border shipping. On Poshmark, you'll find apparel from every brand at cheaper prices.
After garnering over 40 million users in the U.S. and generating over $160 million in sales, Poshmark has ventured out to Canada. Making cross-border shipping a viable option.
What is Cross-Border Shipping?
The term 'cross-border shipping' refers to the transfer of goods from one country to another, except that it eliminates the common supply chain elements such as inventories at the destination – cross-border shipping is, in essence, a peer-to-peer network of goods relocation.
It's important for sellers and buyers in the U.S. and Canada to thoroughly understand Poshmark's official policy on international shipping, what cross-border shipping entails, problems associated with cross-border shipping, and how to handle those problems.
Poshmark's Official Policy on International Shipping:
What separates Poshmark from competing reselling websites such as Depop and eBay is it's over-simplistic shipping methods and minimum shipping rates. After finalizing on a sale, Poshmark sends the sellers an auto-generated shipping label.
The shipping label is a priority shipping label for the United States Postal Office or Canada Post and comes at a flat rate of $6.95 per 2.5kgs for USPS and Canadian $12.99 per 2.5kgs. Compared to shipping rates offered by the postal offices themselves, this is a steal!
The problem? As per Poshmark's official statement, Poshmark currently does not offer international shipping between the two countries. Buyers and sellers within Canada can trade amongst themselves, and so could buyers and sellers within the U.S.
However, Poshmark itself does not cater to international shipments.
Problem: Poshmark Does Not Allow International Shipping
Solution 1: Renting Out a P.O. Box
Renting out a P.O. box is equivalent to having a safety deposit box at the bank. You're renting out space within the post office and having your mail directly sent to them in bulk.
Buyers in Canada can have sellers in the U.S. send mail over to their P.O. box. If you're a buyer living near the U.S. – Canada border and make frequent trips from one country to the other, this is the simplest way to go.
Cost of Renting Out a P.O. Box:
The cost of renting a P.O. box depends on three factors:
The amount of time you're renting it for
The location of the P.O. box
The size of the P.O. box
boxes are rented out for either six-months or a year and come in five different sizes (extra small to extra large). Location matter – the same small box for six-months in one state can cost a whole lot more in another. A full rundown of costs related to P.O. boxes is available on the USPS website.
Solution 2: Third-Party U.S. Addresses
A major reason why Poshmark is so popular even in countries outside the U.S. is the fact that it's demographic caters to all ages and aesthetics. Buyers have uploaded items for resale on virtually every category imaginable. It's safe to say people outside the U.S. want to get their hands on those items.
A third party address is a solution for Poshers in Canada and other countries. Companies such as a logistics company have your items shipped to their warehouse before having them sent out to you internationally.
This is a simpler method than going through customs all on your own. These companies are dedicated to cross-border shipments and make the process easier and more cost-effective.
How to Procure a Third Party U.S. Address:
The process is as follows:
Create an account on a third-party address catering website
Once your shipment is received at their warehouse, they send you a receipt with package specifications (size, weight, labels, etc.).
You fill out a customs form on their website, and
The company ships your package to you!
Solution 3: Working With Partners
| | | | |
| --- | --- | --- | --- |
| | DHL | FedEx | UPS |
| Shipping | DHL Express and DHL Parcel Direct | FedEx International Priority and FedEx Ground | UPS Worldwide Express and UPS Ground |
Costs of Logistics For DHL, FedEx and UPS:
Costs for logistic partners vary from one company to the other. Currently, leading international logistic companies include; FedEx, DHL, and UPS.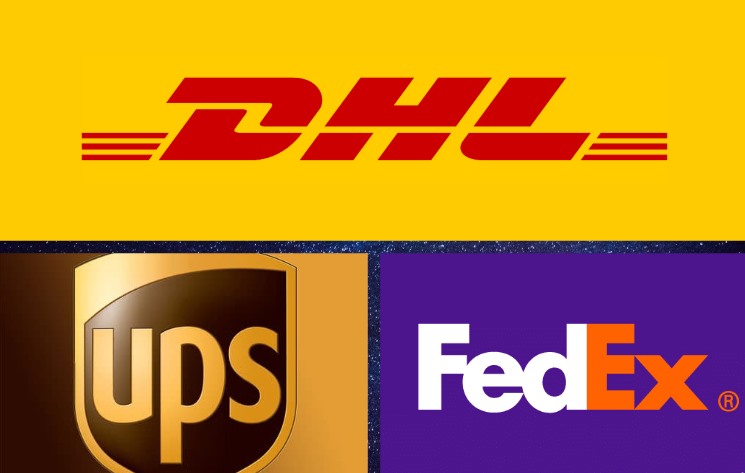 The following shipping charges are a comparison between DHL, FedEx and UPS for shipping a 2 pound package from the U.S. to Canada:
| DHL | FedEx | UPS |
| --- | --- | --- |
| $34.82 | $28.43 | $29.39 |
To better understand Poshmark's policies on shipping and how you can work around these policies to generate revenue, get Poshmark Pro Tools – the leading Poshmark bot that automates your Poshmark works for you. Allowing you more time to focus on business-critical tasks.
Frequently Asked Questions:
Does Poshmark ship internationally?
No, Poshmark does not currently ship internationally. Shipping is only available between buyers and sellers in the U.S. and Canada, but not with one another.
When did Poshmark come to Canada?
Poshmark released a beta version for its Canadian website on the 29th of May, 2019.
Who pays for shipping on Poshmark Canada?
Whether you're in the U.S. or Canada, buyers are directed to pay for shipping under Poshmark regulations. For the U.S., shipping charges are flat $6.95 per 5lbs (2.5kgs) and for Canada, it's flat Canadian $12.99 per 5lbs (2.5kgs).
How does shipping work on Poshmark Canada?
After finalizing on a sale, Poshmark sends the seller an auto-generated, priority shipping label. The package is then sent through Canadian Post and the buyer receives it within 1-7 days.