We're down to the year 2021 and things seem to be going in favor of Poshmark users. It is the year in which 'Poshers' can step up their selling/reselling game and make their mark in the Poshmark world. How can I say that? Well, it's not me but Poshmark itself that has called 2021, 'The year of shopping online'.
So what should be your goals for 2021 as a Posher? And more importantly, how can you bring those goals to life? The answer is simple: USE POSHMARK PRO TOOLS AS YOUR PERSONAL VA!
Stay with me as I take you on an inspiring journey through Poshmark tools. Hopefully, by the end, you'll have most (if not all) your goals clear and sorted for 2021!
The Game Changer
There are about 60 million Poshmark users all across the US and Canada right now. And by the looks of it, this number will keep increasing in 2021 as things go online.
And this is great for Poshmark sellers because it makes room for a bigger audience for them. But too much of anything can be hard to handle.
If you're a new seller on Poshmark, I'm pretty sure you'll find all this inflow of buyers very fascinating. You'd want to jump at every chance you get to make a sale and that's understandable.
New blood (new sellers in this case) are always hyperactive at the start but ask yourself this simple question: Can you handle the pressure? Will you be able to stay consistently active and excited? I'm positive that it's not 100% possible because Poshmark is all about helping out yourself to get to the top.
It might be easy to manage 10-30 new customers to your closet but what if you face a surge of 100? Or 200 new interested buyers per day? There's no shame in admitting that it actually does get a bit too intimidating.
So where does Poshmark Pro Tools fit here? Well, it becomes your helper, your virtual best friend. How? It takes off the major load of tasks from your shoulders. On top of that, it efficiently manages YOUR closet for YOU. Is it not the best Poshmark bot for 2021? We'll go more into details of that as you read further.
What should be the goal(s) for Poshmark sellers in 2021?
According to Fast Company, Poshmark has doubled its income last year. From $1 billion to a whopping $2 billion. That's some real big success right there, would you agree? So imagine what would happen in 2021?
This year people have majorly switched to online shopping instead of malls/stores. Most if not all shopaholics have started shopping online and are pretty content with that. They buy what they want just by a click.
This can be a 360-degree turn of events for Poshmark sellers and their earnings. Since there is a bigger audience now than ever before, the 2021 goal for Poshers is simple:
'MAKE MORE MONEY IN LESS TIME'
But we all know that it isn't a piece of cake. And that is exactly why we have Poshmark Pro tools for your service.
How does Poshmark Pro Tools pave the way for a profitable 2021 for Poshers?
So according to Business Insider, Top Poshmark sellers have earned up to $1 million per year. How? Just by reselling! How crazy does that sound, right? But I assure you, there's 100% truth to this.
Though this may sound like a bit overdramatized but trust me when I say: Poshmark Pro Tools can be a GOLDEN TICKET to making it big at Poshmark in 2021!
Here's how it works to make 2021 profitable for Poshers.
Poshmark Pro Tools in Posh parties
How to find what brands sell best on Poshmark in 2021? Easy trick: Stay aware of Posh parties happening on Poshmark. Now, what are posh parties? Basically, they are virtual shopping events hosted by Poshmark ambassadors where sellers share their items with the party.
So what's the big deal with that? Well, these ambassadors can also be some of the top sellers at Poshmark. And you know what that means, right? The chance of getting NEW BUYERS for your closet.
But what part do Poshmark Pro Tools play here? Consider it like an excited friend that introduces you to new people at a party. That's exactly what it does. It shares your lists for you in these Posh parties whenever they take place thus introducing you and getting attention from sellers.
And the best part? You don't even need to be there. It will automatically share your closet and increase your chances of getting promoted by big sellers.
Self Sharing and Posting at the 'Right' time
You must've heard that 'good things come to those who wait'. But that doesn't mean that you miss the right time. And Poshmark Pro Tools makes sure that you don't!
According to Poshmark's 2021 social commerce report, 38 million items are shared on Poshmark per day. But that doesn't mean it's constant all day.
As observed by Poshers, more sales were made at evening/night hours or just before holidays. Even the weekends turned up more sales as compared to normal weekdays. Wondering why? Probably because people have the 'time' to go through products at these specific periods.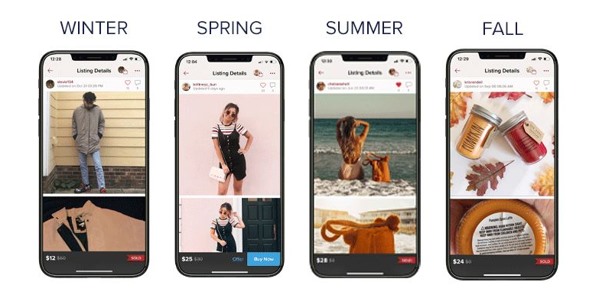 And that's where you want to take advantage and show them your products. That is where you'll make money and that is where Poshmark Pro tools will make it possible for you.
It will auto-share your closet and listings repeatedly (with time delays in between) for you. Because let's face it, who has the time to keep sharing all throughout the day?
Just set your delay time and it will make sure that YOUR products come at the top of your buyer's page. This way you don't even have to sit down and keep sharing and posting your listings. The bot will do it for you!
Big Closet or Small – Poshmark Pro Tools for All
Whether you have a closet of 50 products or 500, you're here to make money out of it. And Poshmark Pro tools will make it happen! How?
It will determine the perfect share schedule for your closet size and put it out there. The algorithm 2021 is to get more and more attention and that's what this bot will do.
Follow and Engage
I can't stress enough on the importance of engagement and following on Poshmark. It is your KEY to becoming the top Poshmark seller of 2021.
88% of Poshmark shoppers are repeat buyers and 45% are repeat customers. So how do Poshmark Pro tools help in keeping your customers or attract new ones? They follow/unfollow and conversate with other Poshers for you thus increasing your engagement.
This way they'll make you seem 'active' at all times to your customers (even though you're not). These bots will further:
Determine what people are interested in buying
What lists people have been liking
And results? They'll follow these top sellers, leave comments on their listings, and share their closets. No one will ever know it's not you behind all that activity. Similarly, it will share your closet with them and others repeatedly to get their attention.
No Commitments Needed
Using Poshmark Pro tools is not necessary but trust me, it will change the way Poshmark works for you. When you start earning all those hundreds and thousands of dollars, it will be worth your investment.
Think about it, what do we want to do in 2021? Obviously spend less and earn more, right? You also want to actively sell more and more without having to spend your entire day doing so. This is all possible by using the Poshmark Pro tools.
This Poshmark bot will offer great services to you without being too heavy on your pocket. You can simply use the Poshmark tool's free 3-day trial and see how much it can do for you. It demands no commitment of any sort but is ready to take your selling game up a notch!
I'm hoping all of this made sense to you and your 2021 goals are sorted, all thanks to *drum roll* POSHMARK PRO TOOLS!