What's it like to be a Poshmark seller?
Are they constantly going around sourcing items to sell? Are they making sales left, right, and center? Are they spending hours and hours each day following a monotonous routine? At this point you need a Poshmark Virtual Assistant!
Yes, yes, and yes. While the first two scenarios seem adventurous and fun, the third sounds dull and boring – that's because it is. Poshmark schematics call for sellers to spend upwards of three or four hours each day having to take part in community guided operations.
So, what separates a Poshmark seller who's life revolves around sharing, liking, and following on Poshmark from a seller who spends their time sourcing and making more money? Virtual Assistance.
That's right: instead of manually taking part in community operations, Poshmark sellers can use a virtual assistant to perform these tasks and free up space to focus on business-related tasks.
What Is A Virtual Assistant?
A virtual assistant is supposed to work on day-to-day activities set forth by a user. The service provider might employ other humans to perform tasks on the users part, or have a robotic system in place.
These activities involve, but are not limited to; scheduling, community-guided operations and resourcing. All in all, a virtual assistant helps users stay ahead of the game.
Virtual assistants for Poshmark perform tasks such as; automated sharing, automated community shares, and automated liking. Using a VA service to boost up sales on Poshmark is completely legit and supported by the Poshmark team.
Is a virtual assistant helpful? You bet they are! Poshmark sellers on popular reseller forums have remarked an increase in sales and net profit after using a virtual assistant compared to manually performing these tasks.
We've established what a VA is and how it can be helpful. All that's left to ask is, which Poshmark VA service is the best?
Poshmark Pro Tools:
Poshmark Pro Tools follows Poshmark's community guided schematic and allows automated features on the marketplace to boost sales. The virtual assistant feature allows users to have Poshmark Pro Tools carry out their labor-intensive tasks by simply giving their closet username and password.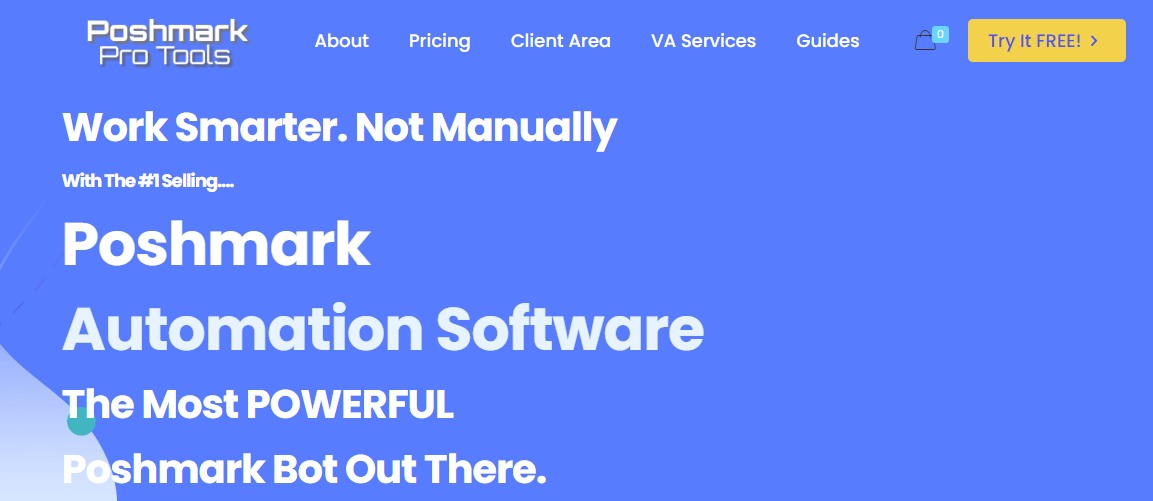 Features include; sharing, following, unfollowing closets and many more community guided tasks all of which generate more engagement on your listings and results in them being featured higher in search results.
Why Pay A Robotic Poshmark Virtual Assistant Service Instead Of Human Poshmark Virtual Assistant Service Providers?
The answer to this is pretty straightforward: automation.
The reason you're even considering handing over operations to a service provider is the fact that having to manually like listings, share closets, follow others, share in parties and so much more is tiring and labor-intensive.
If you hire a service provider that has another human being perform these tasks for you, you wouldn't get increased engagement on your listings like you wanted. Instead, all you'll have is time on your hands to source.
With Poshmark Pro Tools Poshmark Virtual Assistant Service, you'll be providing your closet username and password to Poshmark pro Tools and have them robotically automate community-guided tasks at your discretion.
Hence, you'll see an increase in likes and follows – all the while freeing up time for you to source and sell!
Poshmark Pro Tools Robotic Virtual Assistant Services:
For Poshmark Pro Tools VA Services, all you would have to do is pay Poshmark Pro Tools based on any one of four payment plans and give them your closet name and password. The service provider then runs its program that provides automated tasks for you.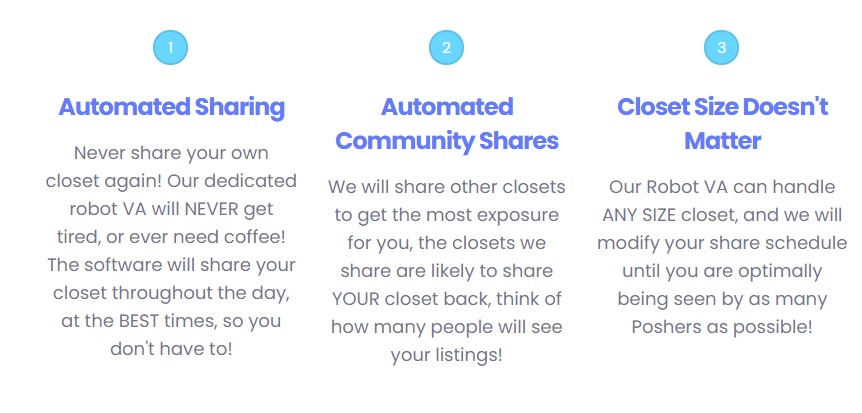 Sharing:
Virtual Assistant Sharing allows users for Poshmark Pro Tools to specify how many times they'd like for items to be shared from their closet, how many times the VA should share items (share loops) and the number of available items you'd like it the VA .
Following:
As aforementioned, Poshmark operates on a community-guided schematic. You scratch another sellers' back and they'll scratch yours. Similarly, if you follow another seller's closet, they're likely to follow yours too.
VA services will follow users on Poshmark (buyers and sellers) who either sell the same items as you do or are more likely to buy from you. In either case, you'll get more engagement on your listings.
Poshmark Pro Tools VA Service finds closets similar to yours and shares them. It doesn't just stop at one community share. The VA service is designed to do this for as long as it takes – without taking a break!
Poshmark Pro Tools runs on a loop determined by the user. This loop includes a range of features such as sharing multiple closets. Again, sharing more closets means having more users share your closet back.
Your closet then shows up in that users profile and is introduced to their followers. All in all, your VA helps garner more popularity for your listings.
Reverse closet sharing is an innovative feature found exclusively with Poshmark Pro Tools. The feature allows sharing items from the very bottom of your closet (items with the least amount of likes), and share them again.
No Limit On Closet Size:
Poshmark Pro Tools automated VA closet sharing isn't limited to specific closet shares. The service can share a closet regardless of its size. Poshmark Pro Tools will modify your share schedule until your closet is being seen by as many users as possible.
Cancellations At Any Time:
While reviewing several Poshmark automation providers, Posh Seller remarked that the biggest concern she had was when companies would make cancellations tricky.
However, not only does Poshmark Pro Tools give users a 3-day free trial to test out its services, but we also allow quick and easy cancellations at any time. We're pretty sure that won't be necessary!
Automation is on the rise and for good reason too, it helps businesses to grow and operations to be performed quickly and efficiently. Poshmark sellers used to follow a manual, exhaustive, and labor-intensive routine each day to generate sales.