Making the most out of your Poshmark Bot
and the Multi Closet Sharing Module Within
Poshmark Pro Tools
Hey guys, I want to share with you a method to get tons of free shares from many different people. The best part is, you can repeat this as many times as you want!
If you have a facebook account, and are in any sort of Poshmark "share group".
Go ahead and make a post within that group.
It should say something like:
"@yourclosetname is sharing 30 for 30, please comment your closet name below to receive your shares!" (You want to leave your closet name so people know who to share back).
People should start leaving their closet name below the post
The second thing you need to do is to open our software "Poshmark Pro Tools"
Once inside, go to the Multiple Closet Share tab.
Start typing in the closet names, loops, share delay & loop delay (mix up the delay numbers a bit)
It should look something like this: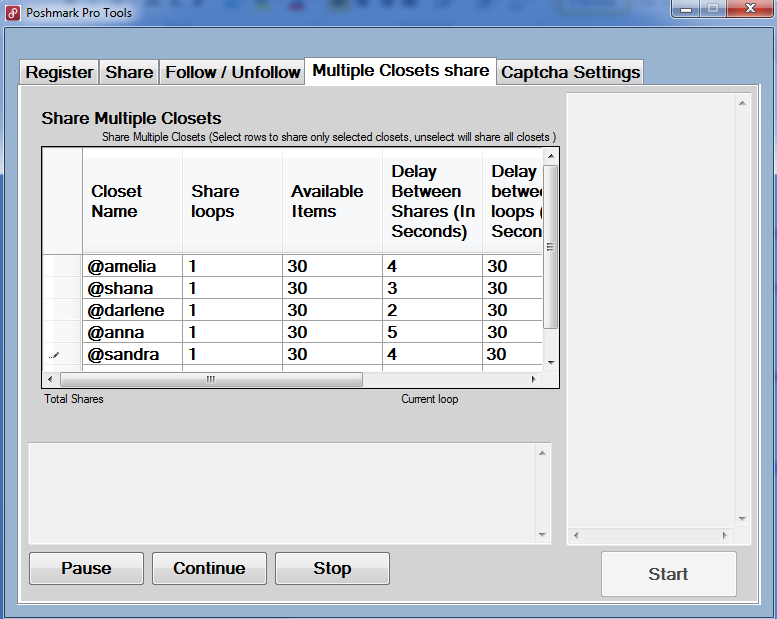 Once you have done that, click "Start".
Wait for the software to finish sharing everyones closet, and make sure you are watching for captchas!
Sharing Is Complete, Now What?
Once your Poshmark Bot has completed its tasks, and all shares are finished, you should start seeing your closet getting pounded with shares from people sharing your closet back!
The best part about this, theres NO LIMIT as to how many closets you can type into the sheet! You can do this ALL DAY and let everyone else promote your listings… Think of how much exposure you will get being shared to 10 or 15 people's follower lists… That's potentially THOUSANDS of people seeing (and quite possibly bundling & buying) your listings.
We hope you enjoyed this little tip, now go make some money.
P.S. For more tips and tricks, check out our Posh Profits video course! FULL of golden nuggets, tips tricks and money making ideas for Poshmark sellers and beginners!