Are you looking for the best Poshmark bot for your Canadian closet? Does the extensive liking and sharing task on Poshmark bore you out? If yes, then you're gonna find my words very useful ahead.
So how about we get a little more insight into what it is and which one's the best? But first, let's talk a little about the workings of Poshmark Canada.
Poshmark bot- What is it?
If you think about it, we're surrounded by virtual assistants in our life. Siri from iPhone and Alexa from Google, what do these have in common? C'mon it's not that hard… They're both virtual assistants (Apart from being costly investments of course)! And quite a sensation, I must add.
But you can ask anyone using these VAs and they'll have a long list of nothing but praises for them. They are relevant for the time and they assist in namely everything. Similarly, Poshmark bots are virtual assistants for your online business on Poshmark.
They are automated software designed to manage your tasks for you. From managing your Canadian closet listings to getting you the spotlight, Poshmark bots do it all( don't worry, we'll go in detail over this ahead)
It effortlessly manages your profile in a way that YOUR screen time is reduced. Thus leaving more time at hand for other works because hey, we all have a life outside of work as well!
Why do you need a Poshmark bot for your Canadian closet?
If you're an active Posher you'd know: Poshmark and time efficiency are not the best match. You need to 'appear' active all day for your customers and share your closet.
Unfortunately, this cycle has to continue. Why? Because all that 'liking' and 'sharing' is how you get attention. However, this spotlight chase should not take up your whole day. And it won't, thanks to these bots.
So how does a Poshmark bot help with that?
Simple: They handle YOUR tasks on their own. In other words, this bot will take over for you and do everything that you had to do to keep your closet running in full swing.
From liking to sharing to the listing, the bot will sort out all your tasks. You'll finally get the time to have your hot coffee breaks in the typical Canadian winter.
What is the best Poshmark Closet Assistant for Canadian Closet?
There are many Poshmark bots and extensions available in the market.
They're all automated bots but in my opinion, Poshmark Pro tools is the best Poshmark bot out there for Canadian closet.
According to the Poshmark community, this has been a constant favorite. Many users opted for it because of its easy interface. And above all, it proved as a good investment. Sounds pretty legit, right?
Since the community is very inclusive, this goes out for all the Canadian closets as well.
Because let's be honest, Canada is becoming an e-commerce hub. And what is our main focus? To generate profits without having to sit an entire day trying to attract potential buyers.
What makes Poshmark Pro tools the best one for the Canadian closet?
First of all, it has a Canadian Closet Support feature! How cool is that, right? You can simply switch to Poshmark's Canadian Version and enjoy all the features.
I wouldn't be surprised if you ask me why Poshmark Pro tools is the best choice. Let me guide you through some of the things that make Poshmark pro tools the best for Canadian Closet.
What do the Poshmark Pro tools offer for the Canadian Closet?
What is the point of having a virtual assistant like Poshmark Pro tools? Does it make a difference? Moreover, does it even justify its existence?
It's completely relevant to have such questions in mind when you're investing in a virtual assistant. And you've all the right to do so! Why? Because it's your money at stake here and you deserve to receive the most out of it!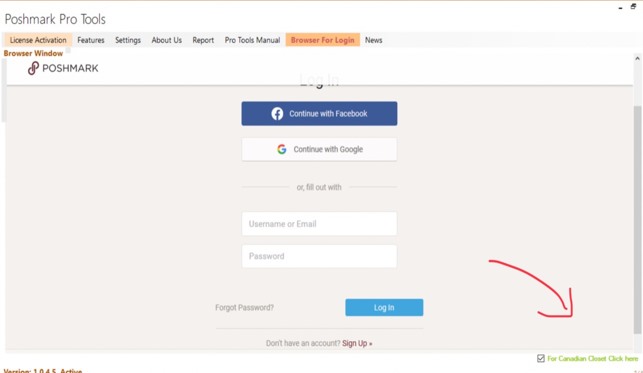 Stick with me while I walk you through the features of Poshmark Pro tools. I'm hoping by the end, you'll become a Pro-Poshmark Pro tools user (get it? Pro-Poshmark Pro Tools?).
ENL (Edit. Next. List)
Okay so first and foremost, LISTINGS. This is pretty fun and interesting for the newbies. And naturally so because imagine you have your closet full and ready?  Wouldn't you want to put it out there yourself? There's no surprise if you're excited to list everything up by yourself by the way.
Initially, it's bearable because you're pumped up to make your first sale but as time passes, this task can seem very daunting. So ask yourself: are you ready for this kind of commitment? Are you ready to devote time to making it all seem flawless?
If you're even a little bit hesitant, then stop right there because Poshmark Pro tools are here for the rescue! How? They'll share your listings for you. Whenever you want, however you want. You can choose your delay time between each listing share and the bot will follow your command.
Automatic Like, Comment and Edit
Tired of following the liking and commenting ritual repeatedly just to gain some attention? Does making changes in your prices become the most time consuming task? This feature is here to save you from that.
All you have to do is to enter your preferred keyword and it will auto like and comment on the listings that include your desired keyword.
For example, you want to give likes to listings for the  'Canadian Old Navy' specifically.
Poshmark Pro tools will sort out Canadian Old Navy products and automatically like them.No hassle for you at all!
It will also help you out in editing your prices in all of your listings. You don't have to open each list separately anymore.
Backup for Closet
So this is a common question: Can I share my entire closet on Poshmark? Well, of course, you can but you also need to keep some sort of a backup for it as well. Why? Just as a preventive measure against potential hacking or other account problems. How considerate, right?
This feature will ensure that you get your Canadian closet back safely in case you run into a problem like that.
How? By creating a proper file for your Canadian closet listing so everything stays in place. It's always good to have a backup plan, right?
Automatic Schedule Maker
Poshmark Pro Tools is an advocate for organization and scheduling. It can become exhausting to keep sharing and following all day long. So is there any easy way to follow back on Poshmark Canada?
Yes, there is! Whether it is self or community sharing, this feature allows you to schedule your sharing and following. But what's the catch? It does this all by itself.
What makes Poshmark Pro tools worth it for your Canadian Closet?
Acts like You
You might be wondering, are bots allowed on Poshmark? Well, they're not. But they're still being used even in Canada, aren't they?
Ideally, you're going for a Poshmark bot because it will take over the community guided tasks for you, am I right? But for that, it has to act like you, a human. Otherwise, Poshmark would start showing red flags over your activities.
And the worst-case scenario in all this? Your account gets suspended. Now, this could potentially cause you to lose customers as well. You have to make sure that the automation bot you choose does not make room for suspicion when it works.
The solution? Poshmark Pro tools! This software is genius on its own because it acts just like a human. It will leave no traces of a bot managing your closet and it'll be your little secret.
Easy to Use and Time Scheduling:
Poshmark Pro tools is probably the easiest software to manage. Once you've set it up, there's no need for resetting after every loop. It's like an automated virtual assistant.
You can customize it according to your Canadian closet and program delay time between each share to avoid any red flags. Our automated software will then AutoShare on the set time.
However, it will notify you in case it detects any CAPTCHA from Poshmark. This will allow you to save your account from suspension by Poshmark.
Affordable Packages:
Do you know? over 2000 'Poshers' use Poshmark Pro Tools each day.
There has to be a reason for that, right? It can be the price point. It is available at a monthly price of just $14.99. On top of that, you can use Poshmark follow bot free for 3 days. You can try it yourself and see if it works for you!
Poshmark Pro Tool's Customer Service:
Good customer service does not only give a good impression to current buyers but also attracts new ones. Poshmark Pro Tool's customer service is a cherry on top of this.
Canadians are known for their warm, welcoming nature. This fits perfectly with the Poshmark Pro tool's responsive customer service. You just have to fill a contact form on the website and the team will get back to you in a day or two. How quick is that, right?
So the bottom line here? If you stay consistent with Poshmark Canada, you might even end up with a few thousand dollars in your bank account. But what's better than a few thousand dollars? A few more thousand. And that is where Poshmark Pro Tools will play its part!