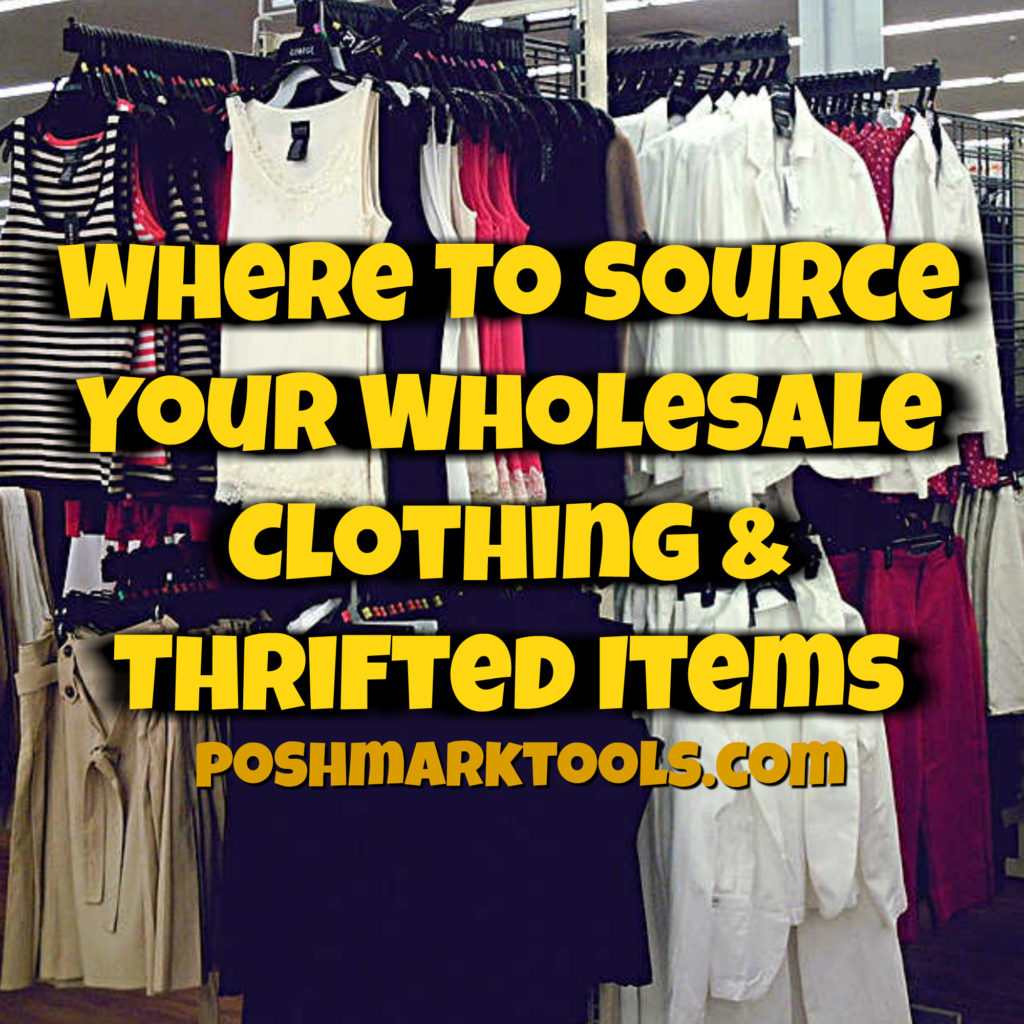 Where To Source Your Wholesale And Thrifted Items
For Poshmark And OTHER Sites LIKE Poshmark!
Mike here… Today I want to talk about how to source wholesale clothing and Thrift items that you can resell in your Poshmark closet.
This can also work for eBay, Tradesy, Mercari, Depop and anything or anywhere else you're allowed to list pre-owned and wholesale items.
Unfortunately, there's a lot of people, on video giving a lot of information that is misleading as to where you should source your items. most of these people have relationships with these businesses and wholesale sources that have taken years to cultivate, and they expect you to just waltz in there and get the same deals that they get.
Either these "influencers" really don't understand that they are giving people false information, or they are just looking to make content to fill up their YouTube channel, Blog, podcast… ETC.
Anyway I'm here to speak about a few things that I personally know, and speak about a few places that I have personally been and have sourced items from.
There are 3 places that I mainly use to source wholesale clothing, or thrifted pre-owned items that I know I'll be able to sell for a good profit margin. When I say good profit margin I mean anywhere from 50 to 75%.
The first place I'd like to talk about are the Goodwill bins.   being at the bins is an experience in itself, for those of you who have never been there before it is truly a humbling experience. mainly because there are always 50 – 100 people around you rummaging and scouring all the clothes and items within the bins themselves… BUT you can truly find some hidden gems in this place.
The best part is you pay for clothes by the pound. When I went I paid a $1.25 to $1.50 per pound of clothing The bins are great for making mystery boxes! and finding a few single items you can list up that will sell really well, please make sure you inspect your items, and if you can do your best inspecting before you pay for them because all purchases are final.
The 2nd place is an online store called Thredup.com.
This place has many pre-loved & pre owned items that you can purchase online and have shipped directly to you.
Please due you do-diligence and inspect the items after you have received them. 
You can also sell your pre-owned items to them!
Here is thredUP.com's return policy
My 3rd and FAVORITE source is wholesaledesignerhandbags.com. this place has it all, it is mainly a directory of wholesale sources that the owner has collected over the years of being in the business. every single Source has been vetted and confirmed by the owner of this directory. It is very inexpensive to purchase this directory, and for the amount of sources that you will be receiving it is almost too good to be true.
I found many luxury designer items, not just handbags,  but all sorts of clothing from 50 to 70% off of the retail price, sometimes even more! inside this directory there is more than just wholesale clothing sources, there are tips and a lot of valuable information about this business. it is very beneficial to read through all the information in this website The owner, throughout the years has helped thousands of people find authentic designer items At wholesale prices and have used this directory to start many of their own businesses, some just for personal uses.
This is how you should use this directory:
First, after you have purchased an account read all of the information at the top of the website, it will teach you how to use the directory to get the most out of it. then you should browse through the supplier lists on the left hand side and get in touch with some of the suppliers which you are interested in. most of the suppliers have websites that you can view their inventory online, some of which you need to contact them to view their inventory.
Some suppliers are not even allowed to show all of the brands that they have on the internet, some are under contracts with some of the designers and have signed non-disclosure agreements. that's why you should always Contact the suppliers directly so you are able to get a feel for most of what they have.
This is the real deal, this is how a lot of the top sellers across all platforms do their business. They are getting in touch directly with wholesale clothing suppliers and wholesale designer items suppliers and creating their own personal relationships with these companies.
Now you have a good concentration of these companies right in front of your eyes, there is no scouring the internet, calling retailers and begging them to tell you their source! you now have a leg up in the competition and a head start!
Some companies will even allow you to dropship goods to your customers, so you will never have to hold inventory, ever!
To check out wholesaledesignerhandbags.com's directory, click =========> HERE
Conclusion
While all of these sources I have provided for you will definitely help you and are AMAZING, you should always do your own research, and check the authenticity of any item that you purchase if you come across any fake items, use your better judgement and don't list it. This is better for you and your credibility as a seller, because once you've listed and sold one or two fake items people will know about it, word will get around fast, your reputation in this business is everything, don't throw it away for a couple bucks.