You are here because you've tried all the Poshmark tips from the top blogs and still NOT making much profit and you are still finding that how to increase sales on poshmark. I GOT YOU COVERED!
I remember how it was like being a newbie and following all the top Poshmark tips shared by top Poshers and blogs telling me to do this or that. However, being a struggling college student, I found it extremely frustrating when many of those tips didn't work.
I learned that most common Poshmark tips were based on information gathered from the same top sellers. Consequently, they had similar tips and tricks to offer. Frankly, those business models do not always work for everyone. Moreover, they are usually VERY generic and don't help much in the long run. After investing a full year into being a seller, these are the top Poshmark tips I was able to gather.
So, first off.
The Boring Poshmark Tips That Everyone Knows!
There are certain things a seller must do if they plan on getting anywhere.  However, I've included my pro Poshmark tips with all that mundane stuff. Let's get going!
1. Schedule Your Sharing:
It is no secret in the Poshmark world that you must regularly and continuously share your listings and closets if you want to attract the buyer's attention. One of my first pro Poshmark tips: do not just share at the beginning of the day and cross it off your list. Don't even share it 3 times and day like most people recommend it. Share on SPECIFIC times.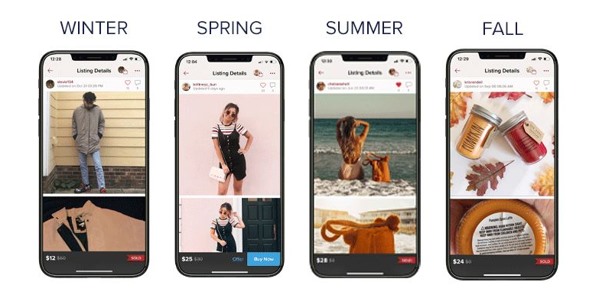 For instance, share with brand parties happening every day at 9 am for specific names people are looking into. Similarly, the Category parties at noon for 'Best in Shoes/Shirts/Skirts', the Department parties at 4 pm targetted for audiences scrolling through looking for a bargain, and the 7 pm Style parties for buyers more in the hunt for a particular niche.
2. Follow The Right Audience:
Yes, you must follow the top sellers and ambassadors on Poshmark. Apart from following them and getting them to share your listings, target your audience. PLEASE. This is going to save you tons of energy. I would rather have 1,000 followers of active buyers than 10,000 followers of sellers who are simply expecting me to either buy from them or share their closets.
How To Find Buyers On Poshmark?
Go to the liked or sold items in the search result of your listing. Next, check the users who have bought or liked it. Follow them!
But wait! There's more.
Pro Tip: The accounts you need to be keeping a special eye on will have zero to 2 followers max, no activity apart from few closet shares, no banners, and no listings. THERE'S YOUR BUYER.
This can get a bit time consuming, but trust me it's all worth it once they start buying.
3. List & Re-list Everyday:
A lot of the buyers on Poshmark are simply looking for a good break on the buck and leisurely scroll through the new postings whenever they want to relax. This is why it's important to list items. Even if you have a small closet of 50 items, consider relisting them. Eventually, this will make them appear at the top of the page.
The Juicy Poshmark Tips
Now, these tips may look a bit commonplace in the beginning. But trust me, there's always the extra mile you can get to.
Hint: You save the best thing to eat for the last!
4. Flash Sales:
It is no secret that you are supposed to price items more than their worth when listing, so you can reduce it later according to the offers you get. In addition to this, remember not to make it so overpriced that people who might be new to the platform would just laugh away.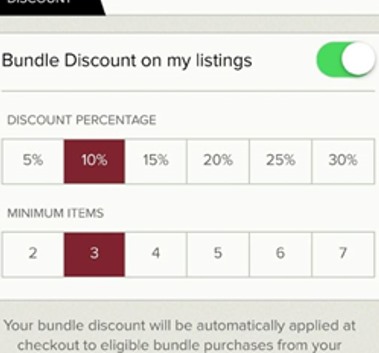 A GOOD tip for that would be to search for the same items you list and cross-reference them with your competitors.
A BETTER tip would be to offer bundle discounts.
However, the BEST tip would be to start a sale immediately after a buyer likes your item. This would give them an instant notification for a one-day sale. The fear of missing out will make the sales for you!
5. Timing Is The Key For Greater Sales:
Remember that it's not about just announcing the sales, but also timing it right. Just like the shares.
What Is The Best Time For A Sale On Poshmark?
I know you must have read it by now that paydays are the best to offer sales. WRONG!
Well, at least that didn't work for me. I noticed the pattern in my sales report. It wasn't that there weren't any profits on the sales I offered. Rather, most of my items were sold on the weekends even without sales. I observed it in my friends and family too. With most of the people having regular 9-5 jobs, many only have the time to relax and shop on the weekend.
Next, coming on to the perfect time of the day for a sale. Apart from the Posh Parties, stick to the evening hours. Again, most people shop at the end of each day to relax and unwind. Don't miss this opportunity!
What Is The Best Month Of The Year To Sell On Poshmark?
As promised, the best thing is always saved for the last. Drum roll, please.
The best time to sell on Poshmark is just a few weeks before the holidays!!
I made my largest earning of a total of $3,728 a week before Christmas. This got me experimenting and I tried it again in the week before the New Year. I sold $1,398.45 worth of clothes! Similar results a week before Hanukah, too.
Pro tip: Apply the same trick for National Holidays like MLK and 4th of July as well.
6. Focus On Your Photography:
Use Instagram for inspiration. The accounts with the most luxe look to pictures are usually the ones that have a fixed color gradient or the same filter for all pictures. But that's Instagram, not Poshmark.
I'm going to suggest you avoid adding filters at all costs. You might end up with angry customers not satisfied with their dull-colored packages instead of the bright ones on your page. Select a white wall and some paper tape to temporarily stick items to your wall. Make sure the wall catches natural lighting too.
If you can't manage that, the best option is to search stock pictures of the item you want to sell. People are more likely to buy it if they see a model making it look more luxe.
Another thing you MUST take a picture of is the faulty part of the item. Customers appreciate honesty when it comes to sellers.
How to Take the Best Pictures for Poshmark to Sky Rocket your Sales?
For my pictures, I like to include every angle I would be looking for when buying online myself. For instance, let's say I'm taking pictures of a pair of pants. These are the types of pictures I would take:
Complete front, flat lay
Complete rear, flat lay
Front close-up shot of upper part of pants with zipper undone and flaps open
Rear close-up shot of the upper back of pants
Complete front with width measurement through measuring tape – hip
Complete front with length measurement through measuring tape – top to bottom
Close-up pictures of any tags attached to the pants
SuperPro Tip: Place something in the pockets to indicate how much space they hold!
7. Write Detailed Yet Precise Descriptions:
Take your pictures as if you are not allowed to write the descriptions and write your descriptions as if no pictures would be allowed to share. Period.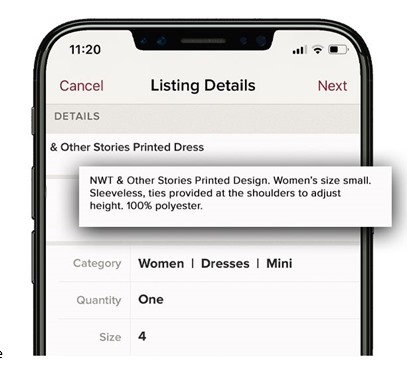 I cannot tell you how many people get the descriptions wrong and lose out on valuable sales. You have to be very specific about names otherwise buyers won't be able to see them when they search. Here's my guide to descriptions.
The Easy Guide to Poshmark Descriptions
Mention all of these in sequence and save this as a template for all of your listings. You're welcome!
Manufacturer name always at the beginning
The style
Product name
The color
Measurements (inseam, length, waist, etc.)
List all imperfections and damages
Super SuperPro Tip: NO EMOJIS. Your items won't show up in Google Search if you add them.
8. Do Bartering Instead Of Selling!
This is one of the most underrated Poshmark tips. Trade items that you think won't be selling anytime soon. If your buyer is low balling you on the price, instead of rejecting the offer and risk a bad reputation, ask if they have anything in their closet to offer as a trade. This ensures you're not turning them away yet not completely at a loss yourself.
9. Create Some Value In Your Products:
Whether you got the clothes from your closet, Goodwill, thrift stores, or the bins, it's always worth the effort to make them look presentable. That doesn't mean it's only for the pictures. Iron the clothes you ship.
If you store your bulk buys like most people, I recommend throwing a fragrant soap or spraying a good quality perfume on them. Not too much though. So, they keep smelling nice and clean when the customer opens the package.
Lastly, remember to only add a tiny amount. You don't want your customers to get an allergic reaction soon as they tear into that priority mail package.
You can also use products like a magic marker to remove stains on a sneaker, too.
10. Make Your Account Pleasing To The Eye:
Make your account look aesthetically pleasing to browse through. Create a banner suited with the theme of the clothes or items you sell. Give a sense of uniformity in your listings yet remaining original enough that your followers or potential buyers see the effort you put in. This immediately reassures them that you are someone he or she can trust to sell him or her quality products.
Pro Tip: Head over to Instagram and look at "Outfit of the Day" accounts or even people who take pictures of books! You will see that they follow a specific theme.
11. Build Better Customer Relationships:
The Language
Treat your Poshmark account like a business, and handle it like one. This means dealing with customers in the right way. Sometimes you get single word queries like "Cotton?" on a scarf you list. I always respond with a greeting and a complete sentence. It goes something like this:
"Good evening! Yes, the item is …"
With this sort of professionalism, you are more likely to have returning customers.
The Comments
No debates in the comments, please. I know how rude some buyers can get when it comes to pricing. They expect you to drop a $35 item to $15. It is important to keep yourself cool in such situations and avoid commenting altogether. For justified inquiries, prefer talking to them during negotiation or offer them a bundle deal.
Another good commenting habit is always commenting back immediately. This lets the customer know you are fully active. Sometimes buyers might even forget they left a comment on something and go on to buy some other stuff off Poshmark.
What To Do When A Case Is Opened On Poshmark?
If you have been on Poshmark for a while now, it is more than likely that a customer might open a case against you. If you are right, there's no need to panic. Mostly Poshmark deals and resolves minor misunderstanding or bogus claims themselves. But it's better to be safe than sorry. For my next Poshmark tip, I would recommend taking pictures of measurement tags. Most cases are regarding sizing anyway.
12. Surprise Your Buyers With Something Unexpected:
Leave personalized notes or badges inside the packages. It only requires a little effort, but it helps build a steadier customer base. Also, you can add 20% off coupons in the package for their next purchase from you.
SuperPro Tip: Mention the expiry date of the coupon. I repeat, nothing makes it more tempting than the fear of missing out!
13. Quick Shipping:
Another way to build your reputation is to ensure you ship immediately. Don't take more than 2-3 days. If you're facing delays, inform the customer instead of waiting for them to get frustrated enough to ask.
Pro Tip: Inform buyers when you ship their orders even on regular days. This shows that you are an active seller and have good control over your affairs. Such an attitude will always bring them back to your closet.
14. Become an Ambassador:
You might come across Poshers claiming that becoming an ambassador has decreased the sales, but that's not the case I reckon. Being an ambassador provides 3 basic benefits.
Newsletter on the latest scoop and upcoming trends
You get recommended to new people
Early access and information on the next big PoshFest
However, the most important benefit is usually a hidden one. What this essentially gives you is the status of a trusted seller. This means you are also an active Posher whom new buyers immediately consider reliable and risk-free when buying from.
15. Stick To Selling Popular Brands:
Always check the top-selling brands on Poshmark and try to get them cheap from your local thrift stores, Goodwill, and the bins for a dollar or by the pound. The problem with selling unique items is that you sell very fewer and not that frequently either. Clothing from popular brands sells fast!
Pro Tip: Ask your friends and family to donate their clothes to you.
SuperPro Tip: Shop after holidays like New Year's when people clear their closets making resolutions. Christmas and Hanukah are also great seasons to shop because after them people give away their unwanted gifts at the thrift stores or Goodwill.
Bonus Tip
Advertise yourself outside of Poshmark! Instagram is a good place to start. The rules are the same. Search Poshmark related hashtags and follow people who like those trends. Also, follow top Poshers on Instagram too.
Bonus Pro Tip: Make a Pinterest Board for your Poshmark account. You'll thank me later! I have sold over a thousand items through Pinterest links alone. Half of your internet shoppers are there.