Poshmark's famous Poshfest is just around the corner and I'm sure all you Poshers out there are looking forward to it, like every year. Now, the people already in the Poshmark Community are aware of the workings of Poshfest but for those who don't know what it is, we're here.
So, what is Poshfest? Well, PoshFest is one of the many events organized by Poshmark for its users. They're called 'Posh events'. Some events take place virtually for eg PoshParties and some IRL. Poshfest is particularly an IRL event hosted by Poshmark annually.
It consists of a two-day conference for new, aspiring entrepreneurs and Poshers where they get to learn, have one on one interaction and get insights from successful sellers. No wonder why Poshers around the community eagerly wait for Poshfest.
Traditionally, these Poshfests take place IRL sessions, and Poshers physically attend it every year. However, this year, things have changed a bit due to the COVID-19 pandemic. So let's see what has changed and what hasn't, shall we?
Poshfest 2020- What's different this time?
So the question of the hour: What has changed for Poshfest 2020? I wouldn't say the 'goal' or 'purpose' has changed but the setting has. This year, things are going VIRTUAL. And what does that mean? It means no one to one physical interaction this time.
However, that does not mean you'd miss out on the real essence of Poshfest in 2020. Nope, that's not going to happen. The only difference this time for you would probably only be the fact that you won't have to 'dress up' for the event. Who knew we'd be able to attend Poshfest in our comfy pajamas as well?
Additionally, you'll also save up hundreds of dollars that would have otherwise been spent just for this event trip. Isn't that great? You're saving money and learning side by side? That too, in the comfort of your home! But what special does Poshfest offer? Why is it such an awaited event for Poshers?
What does Poshfest offer to Poshers?
Poshfest is one event that is always looked forward to. Poshers (whether new or old) go gaga over it and everyone wants to be a part of it. And rightly so I'd say! Why? Because it is an opportunity of a lifetime!
Selling on Poshmark is a full-fledged business to some sellers. So a lot of people look up for opportunities to amp up their sales game to earn more. But how is Poshfest related to this? Well, Poshfest is a platform that allows the Poshers of the community to interact with each other. Whether you take me seriously or not but I have to tell you that this is very important, even crucial to an extent. How? THEY CAN HELP YOU INCREASE SALES. And that's what we want, right?
You can get tips from fellow successful Poshmark sellers and learn how they made it big with their closets. Moreover, you learn the dos and don'ts of selling and overall business at Poshmark. How cool is that, right? It's like a whole guidance session that every newbie seller at Poshmark should avail.
Do you want to make your closet stand out? You'll learn from the sellers here. They'll even guide you on how and what you can do to take your closet up a notch and attract buyers as they have.
It is extremely beneficial for new Poshers and entrepreneurs. Why? Because you don't just 'get to know' the community and enjoy the company but you also get to know what works and what doesn't in this business. On top of that, Poshfest is all about getting inspiration for your business model. So you get inspiration for your aspirations here!
What would happen in Poshfest 2020?
Okay so let's talk about Poshfest's 2020 edition and see what would go around in the 2-day conference (sounds boring already I know but trust me it won't be).
Even though the full 'agenda' as they call it, has not been decided yet but like every year's Poshfest, this one would focus on the same aspects.
The event would start with a speech from the CEO and Founder of Poshmark Manish Chandra. He'll walk us through the aspects of the Poshmark Community as a whole and shed light on how far it has come in all these years. It's good to talk about the milestones, right? Thus you'll surely get some extra inspiration right at the start!
The main sessions, however, would focus on the basics, business strategies, and tactics, growth as a seller, and Poshmark tools. This is a great source of getting to know about some of those handy tricks used by top sellers. You'll learn about your closet management and might even get new ideas for your Poshmark closet. Time for some closet sorting!!
By the end, you'll know exactly what Poshmark is all about and how you can make it big (and fill up your bank account) just by selling here.
Additionally, you'll also learn about marketing strategies used by Poshers, branding, managing your inventory, and sourcing- All in one place! It'll be like someone holding your hand throughout the journey and then setting you free to explore at the end. So uplifting!
Another important part of this event would comprise the speakers. But who are these speakers? They're the top sellers and stylists, the ambassadors who've achieved and earned a lot through their Poshmark business. They'll be there to share their experience and interact with their fellow Poshers! So, are you one of them?
Can YOU be a speaker at Poshfest 2020?
Are you a Poshmark ambassador? Do you think you've got a story or an experience worth sharing with the community members? Do you want to be recognized by the community as a top seller? Well, then you must apply for a speaking opportunity at Poshfest 2020!
Poshfest 2020 calls all such ambassadors and sellers to apply for a speaking position. All you've to do is to fill and submit an application form on the website and they'll approach you if there's space for you.
Remember: The deadline for the applications is 28th August, 11:59 pm (PST). So if you're planning to speak and share, you better sign up ASAP.
Venue and Time
Since it's not an IRL event this year, PoshFest has resorted to going virtual through the Zoom app. Thus you'll have to establish your ID via the Zoom app to get access to the Poshfest event conference. It'll be live from Dallas, Texas and would be accessible to all the participants.
This 2-day event is scheduled from Friday, October 2 to Saturday, October 3, 2020. It'll be according to the PST from 8 am-2 pm. So make sure you adjust your schedule for these 2 days according to your virtual event. Because, trust me, you don't wanna miss out on it live!
Cost of Ticket and How to buy it?
In 2019, the whole ticket plus accommodation (and other services) expenditures of Poshfest cost Poshers around $735.77 in total. That's a lot of money, right?
But this year, you won't be spending a lot. Why? Because this year you're only paying for the ticket (along with the tax and fee of course). No extra costs for food or hotel or transportation. Just buy your ticket and avail the perks of premium access at your home!
The tickets cost around $25 (excluding Tax and fee that you'd be paying) and you can easily buy them on the website.
For Canadian tickets: https://www.eventbrite.ca/e/poshfest-2020-tickets-canada-tickets-117090092619
For US tickets: https://tickets.poshmark.com/event/poshfest-2020
And don't worry, there's nothing different in these tickets, they're just available at different sites. After you've bought your tickets, you'll receive a confirmation email from Poshfest that'll come with Zoom registration instructions.
Note: You cannot refund or sell your ticket to anyone.
However, you might want to hurry up and get your hands on these tickets because they tend to sell out fast and you know why. No one wants to miss out on this event, so the early bird gets the worm!
Even though you can get free access to the YouTube live stream of this event, we'd recommend that you do not miss out on the premium access. Why? Because not everything will be available over free access. And if you've been a part of the previous Poshfests, you'd know there's a lot more to this than the main sessions.
What are you getting out of the Ticket?
You must be wondering what you're getting out of your $25 virtual ticket, right? Well, you're getting the Premium Access to all the events of PoshFest 2020.
So what will that premium access lead to? Are there any extra perks? You bet there are!
You're not just getting access to the live sessions via YouTube but you'd:
Be a part of the Breakout sessions
Get access to the exclusive networking group
Connect with speakers & Team Poshmark
Receive the most wanted 'Swag box' (you'd want this)
Get Digital Content
Isn't that amazing? You're getting so much out of your ticket without spending hundreds of dollars! To me, this is a major steal deal! And that best part? You'd still get the Swag Box that you can show off and enjoy! But what's in there? Let's see.
What's inside the SwagBag?
Poshfest events always include giving out Swag Boxes or Bags to all the attendees. They're very popular and highly appreciated. Why? Because they're filled with so many amazing and thoughtful goodies. Thus this bag will always remind you of your good times at the Poshfest.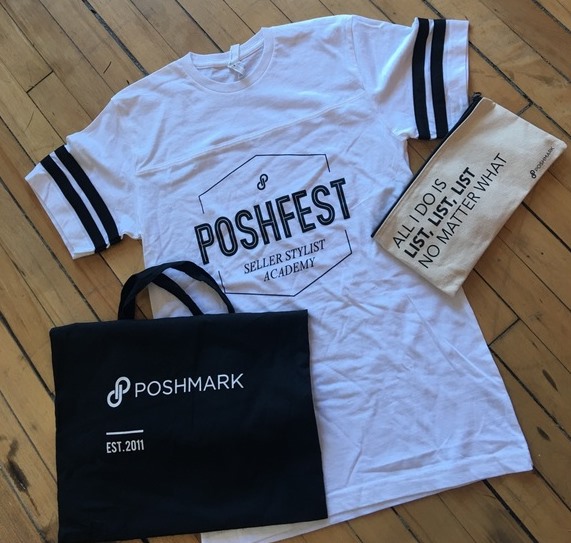 But since Poshfest 2020 is going virtual, will you still get the Swag Bags? Yes, you would. And like always, they'll be filled to the brim!
The Swag Bag is a Tote bag filled with Poshfest sponsored merchandise. In Poshfest 2019 session, they included:
A very cool water bottle,
Notebooks (with post-its and a pen in front),
cute Thank You cards
A Tape measure
Some discount coupons
Stickers
A Poshfest Pen
100% Compostable Mailer Bags
Gum (so random yet useful)
How cool is this Swag Bag, right? You'll be getting this with your Premium Access or maybe a lot more.
Is Poshfest 2020 for Canadian Poshers?
The answer is simple and concise: YES! The PoshFest 2020 is for Canadian Poshers as well.
Likewise, the tickets are available for both Canadian and American Poshers. Since the Poshmark Community is for both, so is this event.
The ticket prices are the same whether you're an American or a Canadian member. But the only obvious difference is that you'll be paying in Canadian dollars if you're a Canadian (duh).
So what are you waiting for? Go grab your tickets before they run out and enjoy a great learning experience at Poshfest 2020!
For more information on the event, you can check out the Poshfest Website.