Poshmark is a popular online marketplace where users can buy and sell fashion items. With over 80 million registered users and 200 million items listed for sale, it's no wonder that Poshmark has become a go-to online destination for fashion lovers around the world for finding branded products. However, selling on Poshmark isn't as easy as selling on other online marketplaces. With millions of users and items on the platform, it can be challenging for sellers to stand out and gain followers.
If you're a new Poshmark seller looking to increase your followers and grow your business then you're in luck! In this blog post, we'll be sharing with you tips on how to increase your followers on Poshmark. From following other poshers to becoming a Poshmark ambassador, we'll unveil secret strategies to help you grow your following on the social marketplace. So, let's start!
How Important Is It for Sellers to Have Followers on Poshmark?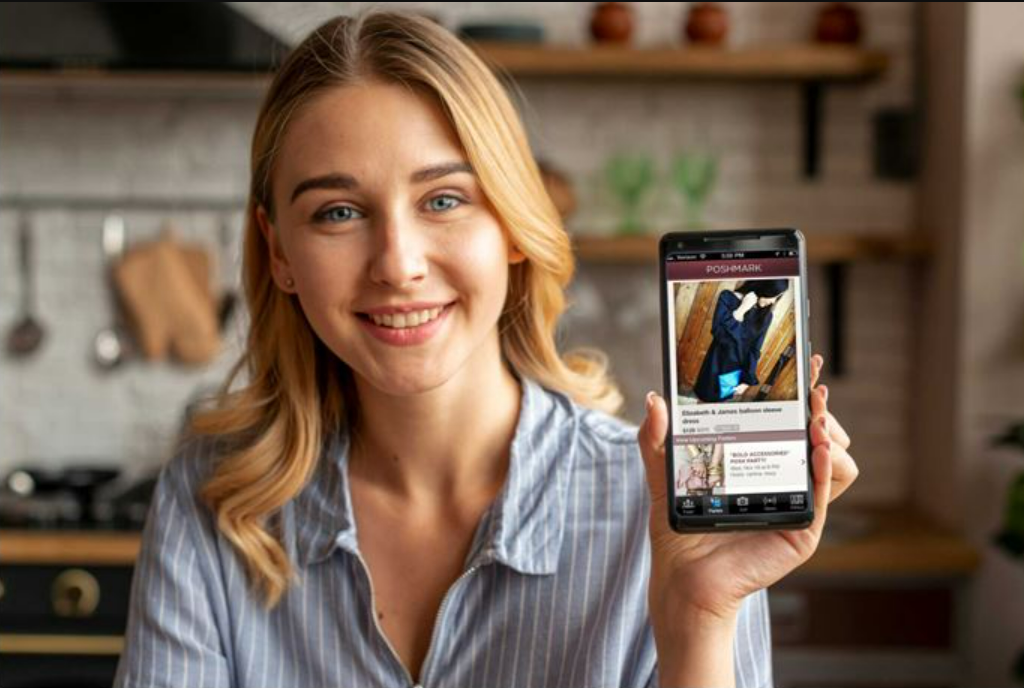 As a seller on Poshmark, having a substantial number of followers is seen as an important aspect of success. Here are some of the reasons why having followers on Poshmark can help you in getting sales and grow on the platform:
– Increased Visibility:
When more people follow you on Poshmark it increases the visibility of your closet and listings. This means that whenever you will add new items to your closet, your followers will receive notifications. This increases the chances of your items being seen and purchased. Your followers are more likely to browse your closet and make purchases, and they may also share your listings with their followers, further increasing your exposure to potential customers.
– Competitive Advantage:
In a crowded online marketplace like Poshmark, having a large following can give you a competitive advantage. Buyers are more likely to choose a seller with a strong following over a seller with no followers or a small following. This is because a large following indicates that you are a veteran seller with a track record of positive transactions.
– Improved Trustworthiness:
Having a good number of followers makes your closet look more trustworthy to potential buyers. This is because followers are a form of social proof that shows that other people trust you enough to follow your closet. It indicates that you have a good reputation on the platform, and people are willing to engage with your listings. This can be especially important for new sellers who need to build trust with potential buyers.
– Repeat Customers:
Having a large number of people following your Poshmark closet can lead to repeat customers. Your followers have already shown interest in your closet and are more likely to buy from you again. You can create a loyal customer base by offering discounts or promotions to your followers or by regularly updating your closet with new and unique items. Additionally, satisfied customers are more likely to leave positive feedback, which can further increase your credibility and attract new customers.
6 Tips to Increase Followers on Poshmark in 2023
1- Make your Poshmark Closet Worth Following: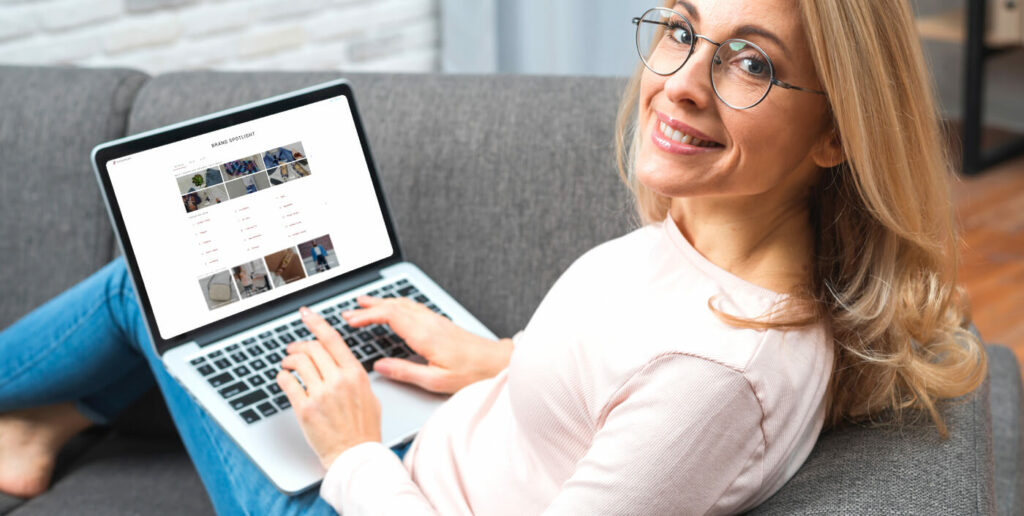 On Poshmark, people follow your closet, therefore, your closet should seem like the one worth following. Here are some tips to make your Poshmark closet worth following so that more poshers can follow you:
– Curate a Visually Appealing Closet:
Your closet should have a consistent and aesthetically pleasing look. Use high-quality photos and take the time to arrange items neatly.
– Offer a Variety of Items: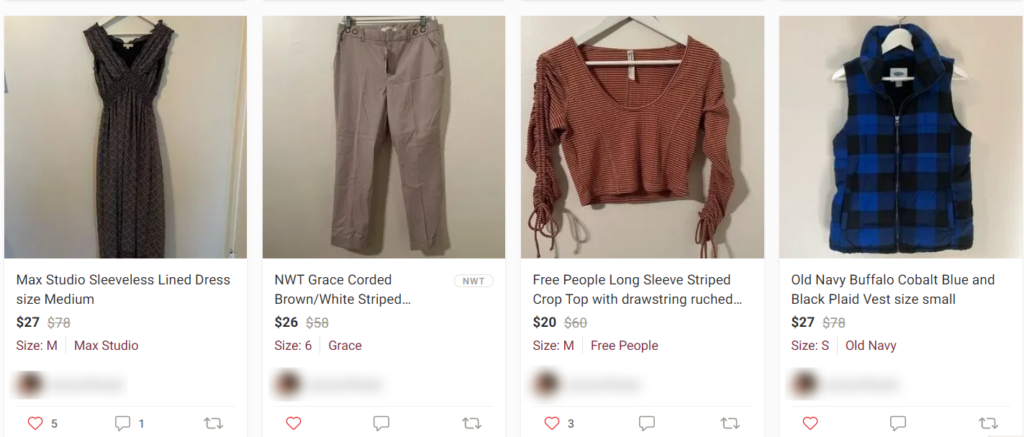 Make sure to offer a wide range of items in different sizes, colors, and styles to attract a larger audience. You can also add items from various top-selling fashion brands to cater to that segment of specific buyers who are loyal to their favorite brands.
– Price your Items Competitively:
When adding a product to your Poshmark closet always make sure that you are setting a price that is reasonable and competitive with similar items on Poshmark. You can also consider offering discounts to entice buyers.
– Frequently List New Items:
Make it a habit to add new items to your Poshmark closet on a regular basis. This will keep your followers engaged and interested in what you have to offer. Keep an eye on fashion trends and stock up on items that are in demand.
2- Follow other Poshers with Similar Interests:
One very effective strategy that can help you see a surge in followers on Poshmark is to follow other Poshers with similar interests on the platform.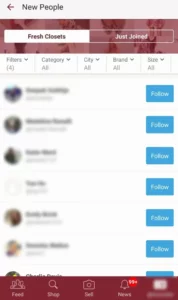 By following other Poshers, you can significantly increase your visibility on the platform. Other users will see that you are following them and may check out your closet. If they like what they see, they may decide to follow you back. It's important to follow Poshers with similar interests because these are the users who are most likely to be interested in your items. For instance, if you primarily sell vintage clothing, you should follow other Poshers who are interested in vintage fashion.
Moreover, when following other Poshers, it's important to be strategic. You don't want to follow too many users too quickly, as this can be seen as spammy behavior. Instead, take the time to find Poshers who are a good match for your brand and follow them slowly over time. You can use the Poshmark search function to find other Poshers who are selling items similar to yours.
Once you've started following other Poshers, it's important to engage with them. Comment on their listings and participate in Poshmark parties. This will increase your visibility on the platform and make it more likely that other users will follow you back.
3- Become A Poshmark Ambassador:

It's 2023 and becoming a Poshmark Ambassador is a great way to increase your followers and visibility on the platform. Poshmark Ambassadors are individuals who have demonstrated their commitment to the Poshmark community and have achieved certain milestones, such as completing a certain number of sales, maintaining a high rating, and sharing items regularly.
To become a Poshmark Ambassador, you need to meet certain requirements set by the platform. Here below are the criteria that you need to meet to become a Poshmark ambassador:
You must have 50 listings available in your closet
You should maintain an average rating of 4.5 or above
You made at least 15 sales
You must have completed 5000 community shares from other Poshers' closets
You must have completed 5000 self-shares of your own items
You must have share items from 50 new closets
Your average shipping time should be fewer than 3 days
You need to leave at least 1 Love Note for another Posher
Once you meet every requirement, you can apply to become an Ambassador by clicking on the "Become an Ambassador" button on your profile page.
Being a Poshmark Ambassador comes with several benefits, including increased visibility on the platform and access to exclusive events and promotions. Moreover, you get a "Poshmark Ambassador" badge on your profile that will help in getting new followers really quickly.
4- Leverage Sharing with A Poshmark Bot:
Using a Poshmark sharing bot is one of the secret ways to increase your followers on the platform. A sharing bot is a software program that automatically shares your listings with other users, increasing their visibility and potentially attracting new followers. These bots can save you time by automating the sharing process, allowing you to focus on other aspects of your Poshmark business.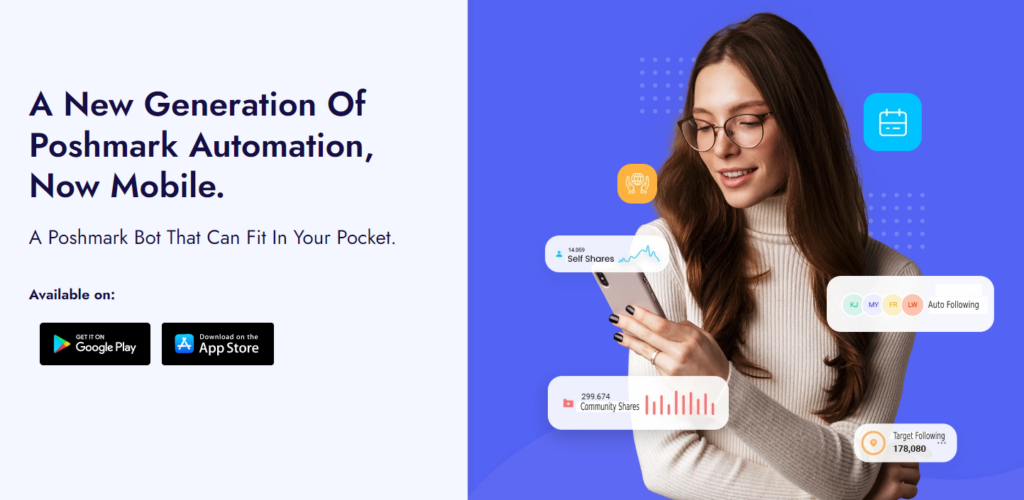 There are various top-notch Poshmark sharing bots available such as Poshmark Pro Tools that you can buy and use to reach a mass audience on Poshmark and bring more followers in. Contrary to many people's belief, sharing bots are not explicitly prohibited by the platform. However, you need to be mindful when choosing a Poshmark bot as not every bot is built to follow Poshmark's community guidelines. Only use a trusted and tested sharing bot like Poshmark Pro Tools which operates within Poshmark's guidelines, to avoid any potential issues.
5- Host Posh Parties Actively:

Poshmark is a social commerce platform that thrives on community engagement, and hosting Posh Parties is one of the most effective ways to increase your follower count. As a seller, you can join and host parties based on a specific theme, such as designer handbags, vintage clothing, or athleisure wear. When you host a party, your closet is featured at the top of the party page, which exposes your items to a broader audience.
To make the most of hosting Posh Parties, it's essential to actively participate in them. This means sharing other sellers' listings, leaving comments, and following new users. By doing so, you not only increase your visibility but also build relationships with potential customers and other sellers. Additionally, actively engaging in parties helps you get noticed by the Poshmark algorithm, which can further boost your visibility.
Another way to make the most of hosting Posh Parties is to promote them on social media. Share the party details on your Instagram, Twitter, and Facebook accounts to attract potential followers and participants. This will help you reach a wider audience and attract new followers who may not have heard of you otherwise.
6- Build a Social Media Presence & Get Followers From There:
In 2023, building a strong social media presence is something that can help you increase your followers on Poshmark. By creating and promoting your Poshmark closet on social media platforms like Instagram, Twitter, and Facebook, you can attract potential followers and drive traffic to your Poshmark store.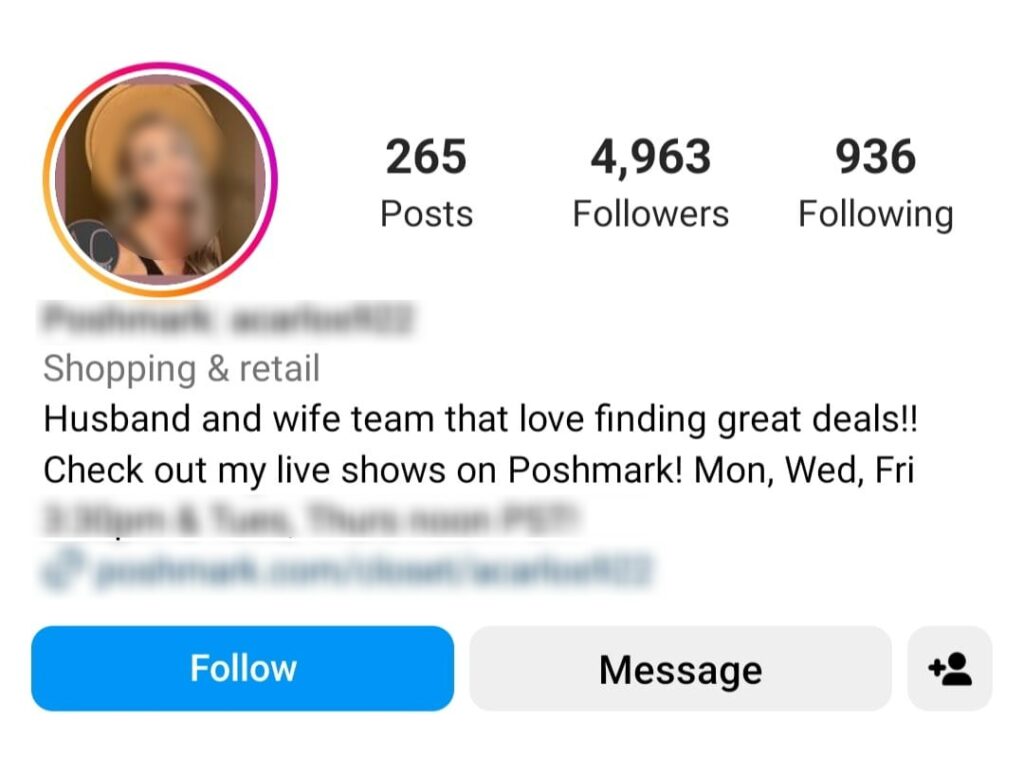 To start with, make sure that your social media profiles are optimized for your Poshmark Closet. Use the same username and profile picture across all platforms, and make sure your bio accurately reflects your Poshmark business and what you have to offer. Use high-quality images and engaging captions to showcase your products and encourage followers to visit your Poshmark closet.
In addition, engage with your followers on social media by responding to comments, sharing user-generated content, and hosting giveaways or contests. This will not only help you build a loyal following but also attract new followers who are interested in what you're selling.
Another effective way to increase your followers on Poshmark is by collaborating with other sellers or influencers on social media. By partnering with someone who has a similar audience, you can tap into their following and gain new followers for both your Poshmark closet and social media handles.
Frequently Asked Questions (FAQs)
Q: Does sharing help in increasing followers on Poshmark?
A: Yes, sharing can help in increasing followers on Poshmark. When you share your listings, they appear at the top of your followers' feeds, which increases the likelihood that they will see your listings and potentially follow you.
Q: How can I optimize my Poshmark profile to attract more followers?
A: You can optimize your Poshmark profile for attracting more followers by using high-quality product images, writing detailed descriptions, using relevant keywords, and adding a personal touch to your profile.
Q: How often should I post new listings on Poshmark?
A: It is recommended to post new listings on Poshmark at least once a week to keep your followers engaged and to appear active on the platform.
Q: Should I offer discounts and promotions to increase my followers on Poshmark?
A: Offering discounts and promotions can incentivize users to follow you and potentially lead to more sales. You can consider offering discounts to new followers or for multiple item purchase.