JUST RELEASED:
Poshmark Pro Leads
Get thousands of targeted, buyer hungry followers on Poshmark with the click of a button!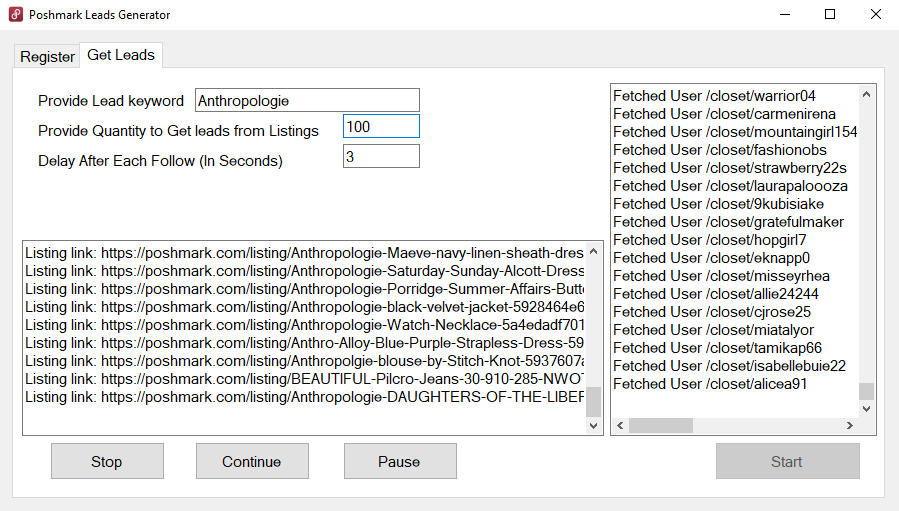 Also, check out:
The BEST Poshmark Automation Software!
NOW RELEASED: VERSION 2!
Get More Sales With Poshmark Pro Tools!
About Poshmark Pro Tools V2

Poshmark Pro Tools is an easy and highly effective software which is proven to generate sales, followers and exposure.
Poshmark Pro Tools was strategically designed by power-selling Poshmark sellers to make Poshmark Automation easier and less time consuming for every Poshmark user.
*UPDATED 1/7/18*
-Added UNFOLLOW Module
-You can now UNFOLLOW closets!
*UPDATED 12/8/17*
-Added Captcha Auto Complete
– Added Puzzle Captcha Sound
– Added Listing Interval Delay (Advanced)
– Added More Following Features
-Added Delay Between Share Loop Feature
– Added NEW Interface!
NEWS:
Poshmark Pro Tools can now auto complete simple captcha! –
However, If there is a Puzzle captcha, you will need to complete it.
Poshmark Pro Tools can now share random items, directly from the feed,
increasing your Poshmark Ambassador share stats! We hope you enjoy this new feature!
Poshmark Pro Tools v2 Features
Timed Self Sharing

Timed Community Shares

Timed Following

Share to Parties

Simple Captcha Auto-Solve

Captcha Protection

Ban Protection

Reverse Sharing

Sharing Items From Feed

Export Log to CSV

UNFOLLOW Closets

Poshmark Automation
Spend less time in front of your computer, and MORE time with friends & family… OH and making money !
For a limited time, we are offering a 3 day RISK FREE Trial

$199.99
$79.99 – LIFETIME LICENSE
For ANY Information, Problems Or Questions About The Software or Any Other Products Please E-Mail Us At: