Sale!
$79.99
Upgrade Today and Receive:
Poshmark Pro Leads & InstaPosh
+
ONLY $49.99!
Description
The ULTIMATE Poshmark Bot & Automation
UPGRADE Package!
+
Poshmark Pro Leads
&
InstaPosh
Buy both products together, get a discount…
AND dominate Poshmark by utilizing the most advanced Poshmark bot features on the market today.
Total Price: $79.99
Sale Price: $49.99
Your purchase will include:
1. Poshmark Pro Leads
A different kind of Poshmark Bot
Poshmark Pro Leads is included with Poshmark Pro Tools SUITE's other products.
With "Poshmark Pro Leads", you don't EVER have to wonder if people are actually interested in your listings. Because they already are.
Imagine being able to build your closet's following according to what brands you sell, imagine the potential for sales.
Bring the products to your (potential) customers!
Poshmark Pro Leads will find Poshmark listings with your keyword (or brand) in any part of it.
This is how it works:
Type in a Keyword in the search (Anthropologie, Gucci, Prada, Coach… ETC).
Click 'Start'
Poshmark Pro Leads will AUTOMATICALLY find listings with your keywords in them
Poshmark Pro Leads will then AUTOMATICALLY follow anyone who has commented, liked or expressed and interest
in your keyword
You get targeted, ready to buy followers.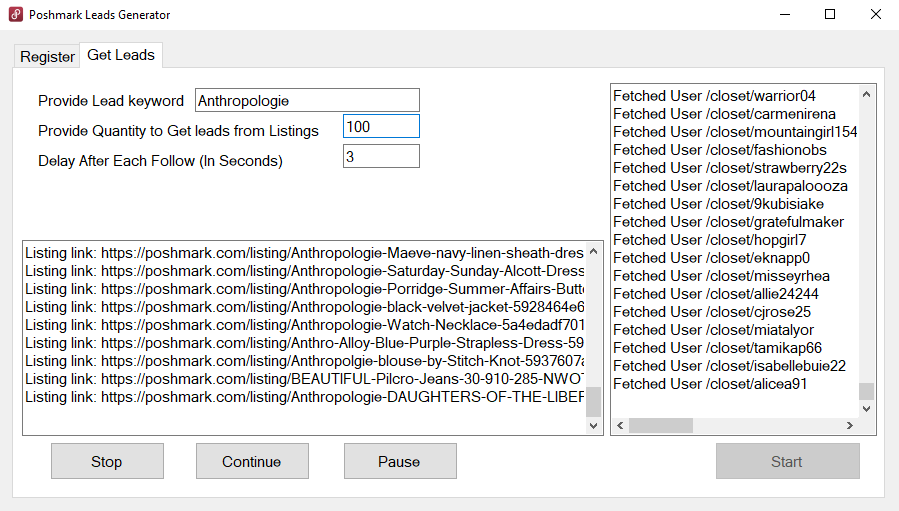 Selling on Poshmark is now easier than ever!
A different Poshmark Bot than anything out there right now.
We have already tested this software with some of our best beta testers, 
whom of which are regular Poshmark sellers, and heres what they have told us:
"This software works like a dream, i've seen a steady increase in sales since using this tool!"
Joan – White Plains, NY
"I made 8 sales so far today since using your lead software, my average is 2-3…"
Patrick – Sugar Land, TX
"First want to say how much I appreciate Poshmark Tools as a software company, second, I want to say how excited I am to continue using this tool, not only did I increase my sales, but its increasing engagement on my listings, every listing is getting TONS and TONS of comments and likes!!!"
Margaret – Honolulu, Hawaii
"In the trial period, I made 16 sales I am in shock. This has never happened to me guys."
Paula – Sacramento, CA
If you want to know the secret of how to sell on Poshmark, then read on.
Anyone will tell you, if you want to make sales, then you need traffic.
And getting targeted traffic on a sales platform such as Poshmark can be difficult.
Listen to this:
It is PROVEN! If you want to sell to alot of people, you need to TARGET what they want!
How do you do this? By checking out listings that are featuring the brand that you are selling and looking at the… Are you ready? ENGAGEMENT!
What do I mean by engagement?
If I see a Nike shirt I really like, usually 9 times out of 10, I'm going to end out clicking the like button, or post a positive comment.
But, what's really going on in my head?
I'm INTERESTED.
Being that I am interested, this is going to make me that much more likely to make a purchase.
It's simple human psychology!
How will Pro Leads boost my selling on Poshmark?
And this is where Poshmark Pro Leads with actually take you and SPOON FEED you serious buyers who are looking to spend money on the items that YOU are selling!
What are the benefits of this software?:

The people you will follow have already made some sort of interaction with the keyword (or brand) you have inputted. Giving you a headstart, and having to "sell" to them less.
You will never have to sit and follow people manually all day, Pro Leads will do that for you.
Most of the people who have interacted with your specified keyword have already bought, putting them in a "buyers mode"
You can build your closet's following according to the brands you sell, increasing interactions (likes, comments, sales… etc.)
Your account will be secure because you can set the follow rate manually!
Captcha will pause the software until you take care of it!
Become one of the top sellers on Poshmark!
I can only tell you so much, you need to see it with your own eyes…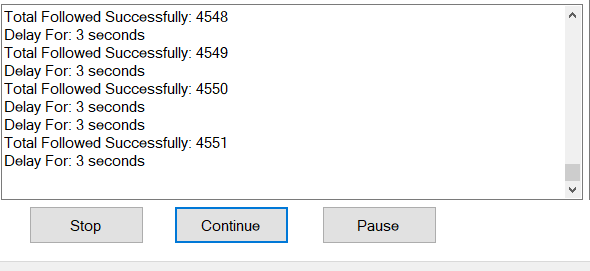 GET THOUSANDS OF TARGETED, READY TO BUY, POSHMARK FOLLOWERS!
If you want the power to sell on Poshmark, with EASE. Then you need Poshmark Pro Leads.
Its original design makes it one of the most powerful Poshmark bots on the market.
Being that this software can potentially make you THOUSANDS of dollars, with the click of a button…
We should be charging hundreds of dollars. BUT. We are all in this together. And trust me, I came from humble beginnings when it comes to selling on Poshmark, and other websites like Poshmark.
You have NOTHING to lose, and only money to make!
I'm confident that you will decide that you absolutely love the software because of it's ease of use.
2. InstaPosh
Are you already selling on Poshmark?
Do you want more paying customers to buy your fashion?
Are you tearing your hair out because your Poshmark sales  aren't as good as they should be?
Do you know others who are doing better than you – earning more in a week than you get in a month?
Fancy joining the pros who seem perched so high on their chic Poshmark pedestals?
Well, you could just be in luck.
Research shows that Poshmark listings that are shown on Instagram can boost your sales by at least 25% – and potentially a whole  lot more!
However, as with so much to do with Poshmark, it's very time consuming to list every one of your fashion items on Instagram and, as we all, know: time is precious!
Luckily, the people who already make Poshmark Pro Tools and Poshmark Pro Leads have developed a new piece of simple software that makes uploading all your Poshmark listings to Instagram as easy as pie.
This tool is so simple yet it will transform even an empty Instagram account into a virtual catwalk by enabling you to copy your entire Poshmark closet in just a matter of minutes.
After that, you'll be ready to go marketing all the items in your Poshmark closet on Instagram – just like that!
Introducing InstaPosh, the fastest and easiest way of uploading a Poshmark closet to Instagram.
It's not a Poshmark Bot. It's a simple software tool that will do all the heavy lifting for you so you can concentrate on running your virtual store!
How does it work?
Open the software
Log into your Poshmark account
Enter your Instagram credentials via the Insta Posh software
Input the settings
Load your listings into the software
Select which listings you want to upload and delete the ones you don't
Add your hashtags  and fix any captions
Then just press upload to Instagram.
All of your selected listings will appear on Instagram thanks to the software and you will have a really clean, beautiful looking Instagram wall filled with all your Poshmark products. As simple as that!
Not only will people be jealous when they find out how quickly you've uploaded all your listings, but the customers will soon start clicking and buying!
After uploading your listings, this is what your instagram will look like:
The download is simple. The setup is easy. And most importantly, you'll love Insta Posh and what it can do for your business and it sales!
Fast, simple, efficient and you a a FREE 5-Listing upload demo
You deserve time. Get a Poshmark Bot.
Let Poshmark Pro Tools SUITE gives you just that!
Get Your Upgrade TODAY!!!