Are You Ready To Take Selling On Poshmark To The Next Level?
This is Poshmark automation at it's best.
With "Poshmark Pro Leads", you don't EVER have to wonder if people are actually interested in your listings. Because they already are.
Imagine being able to build your closet's following according to what brands you sell, imagine the potential for sales.
Bring the products to your (potential) customers!
Poshmark Pro Leads will find Poshmark listings with your keyword (or brand) in any part of it.
This is how it works:
Type in a Keyword in the search (Anthropologie, Gucci, Prada, Coach… ETC).

Click 'Start'

Poshmark Pro Leads will AUTOMATICALLY find listings with your keywords in them

Poshmark Pro Leads will then AUTOMATICALLY follow anyone who has commented, liked or expressed and interest




in your keyword

You get targeted, ready to buy followers.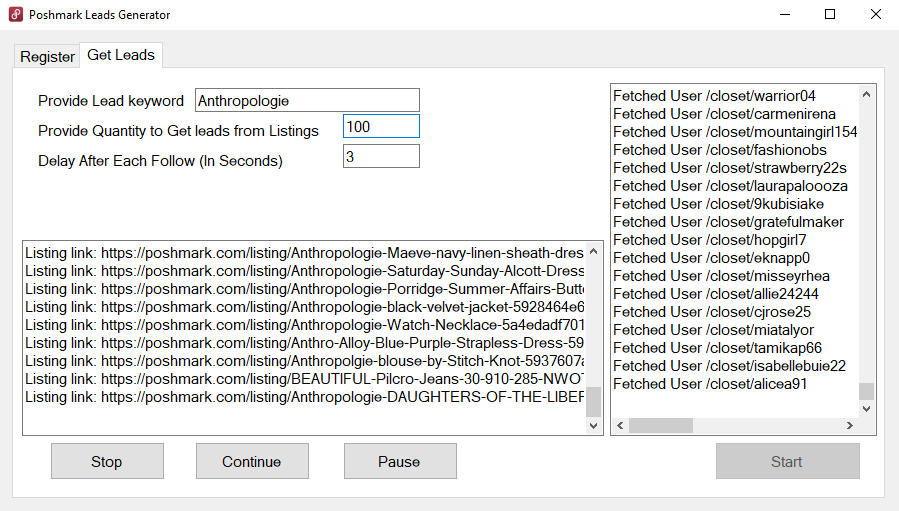 Selling on Poshmark is now easier than ever!
We have already tested this software with some of our best beta testers,
whom of which are regular Poshmark sellers, and heres what they have told us:
"This software works like a dream, i've seen a steady increase in sales since using this tool!"
Joan – White Plains, NY
"I made 8 sales so far today since using your lead software, my average is 2-3…"
Patrick – Sugar Land, TX
"First want to say how much I appreciate Poshmark Tools as a software company, second, I want to say how excited I am to continue using this tool, not only did I increase my sales, but its increasing engagement on my listings, every listing is getting TONS and TONS of comments and likes!!!"
Margaret – Honolulu, Hawaii
"In the trial period, I made 16 sales I am in shock. This has never happened to me guys."
Paula – Sacramento, CA
If you want to know the secret of how to sell on Poshmark, then read on.
Anyone will tell you, if you want to make sales, then you need traffic.
And getting targeted traffic on a sales platform such as Poshmark can be difficult.
Listen to this:
It is PROVEN! If you want to sell to alot of people, you need to TARGET what they want!
How do you do this? By checking out listings that are featuring the brand that you are selling and looking at the… Are you ready? ENGAGEMENT!
What do I mean by engagement? 
If I see a Nike shirt I really like, usually 9 times out of 10, I'm going to end out clicking the like button, or post a positive comment.
But, what's really going on in my head?
I'm INTERESTED. 
Being that I am interested, this is going to make me that much more likely to make a purchase.
It's simple human psychology!
How will Pro Leads boost my selling on Poshmark?
And this is where Poshmark Pro Leads with actually take you and SPOON FEED you serious buyers who are looking to spend money on the items that YOU are selling!
What are the benefits of this software?:

The people you will follow have already made some sort of interaction with the keyword (or brand) you have inputted. Giving you a headstart, and having to "sell" to them less.

You will never have to sit and follow people manually all day, Pro Leads will do that for you.

Most of the people who have interacted with your specified keyword have already bought, putting them in a "buyers mode"

You can build your closet's following according to the brands you sell, increasing interactions (likes, comments, sales… etc.)

Your account will be secure because you can set the follow rate manually!

Captcha will pause the software until you take care of it!
Become one of the top sellers on Poshmark!
I can only tell you so much, you need to see it with your own eyes…
GET THOUSANDS OF TARGETED, READY TO BUY, POSHMARK FOLLOWERS!
If you want the power to sell on Poshmark, with EASE. Then you need Poshmark Pro Leads.
Being that this software can potentially make you THOUSANDS of dollars, with the click of a button…
We should be charging hundreds of dollars. BUT. We are all in this together. And trust me, I came from humble beginnings when it comes to selling on Poshmark, and other websites like Poshmark.
That's why I'm not charging you 100's of dollars for this software. Im not even going to charge you $100.
In fact, because I want you to succeed, Im going to let you try it for ABSOLUTELY FREE for 3 days!
You have NOTHING to lose, and only money to make!
I'm confident that you will decide that you absolutely love the software because of it's ease of use, but I want to make it easy for you!
After your trial, the software is an affordable $39.99! (Of which you can definately make during just the trial itself!)
So… go ahead and jump on board and grab your trial version, absolutely free RIGHT NOW!